<![if !vml]><![endif]>

Mike Woods -- Mike is one of the best guitarists we know, period. He plays blues, jazz standards and rock, but he's got country picking down cold. Mike started playing guitar as a teenager, and played with the popular DC-based bluegrass band, Sharpie Clark, in the early 1970s. Other bands include Swing Shift (with Billy Hancock), The Rogue River Band and Guitartown. He's played with Webb Pierce, Mac Wiseman and Kinky Friedman. A skilled dobro player, Mike played dobro and sang backing vocals on Tex Rubinowitz' first 45, "Patchwork Quilt." Mike also currently plays with Diana in The Fabulettes. Mike's expressive and imaginative playing as well as his sonorous baritone are both integral parts of HTC's sound.
In addition to HTC's many WAMMIES Mike won a WAMMIE (Washington Area Musicians Association award) for pop/rock instrumentalist and has been nominated for multiple WAMMIEs in the Country, Male Vocalist category and Country Instrumentalist categories for the past seven years, as well as Artist of the Year. Besides being a professional musician, Mike is the managing editor of Executive Laser Report.

Diana Quinn -- Diana has been performing in the DC-area since she was a teenager giving classical guitar concerts. She started taking guitar lessons when she was five years old and became a student of Sophocles Papas at the age of 10, when she moved to the area. She studied with Papas until shortly before his death in the mid-1980s. Diana started her first band, the Rocky Mountain Oyster Shit-Kicking Band, in high school. An accomplished classical musician, Diana also plays the lute and vihuela. She founded and still performs with Tru Fax & and the Insaniacs, one of Washington, D.C.'s longest-lived punk/new wave legendary cult band. Diana also founded the (defunct) Dynettes and now performs theThe Fabulettes (a 60s girl group rock and roll band ). Besides HTC's many WAMMIES, Diana won a WAMMIE for Rock- Rock/Pop female vocalist, and she's been nominated for many others over the past few years. Diana is a writer/producer for a major TV network.

Sam Goodall – Sam comes to HTC most recently from the terrific blues band, The Melanie Mason bamd. Sam is one of the best bass players we know; he can play the bass inside and out -- standup and electric, and is the best addition to HTC that we could hope for.  (He's handsome, too!!!!) Oh, and he has a terrific personality!!! What more could we hope for?.


Bobby Martin -- Bobby plays pedal steel guitar, dobro and electric guitar. He has played with the Cold Steel Benders (with Evan Johns and now with Marty Koerner), Ranger Joe and the Buffalo Band, Guitartown, The Lost Highway Band and Micky Jones and Native Son. Bobby has been nominated since 1998 for WAMMIEs in the Country Instrumentalist category.

We call Bobby's Sho-Bud a "flying" pedal steel guitar because we have seen it fly with our own eyes. Not a pretty sight!

Every country band needs somebody who actually works for a living; Bobby is a heavy equipment mechanic. He lives near Front Royal, VA.

Mark Lindamood -- A terrific drummer and all around great guy, with one of the best haircuts we've seen in a LONG time. Mark has played with HTC on many of the tunes we've cut for compilations; he plays drums on all the cuts on Road Kill Stew & Other News. Mark is a near-rabid Beatles fan.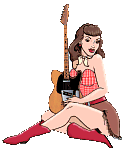 Contact: call us at 202-544-7011 or 800-893-7254
or email diana at honkytonkconfidential.com or diana at muddypaws.com