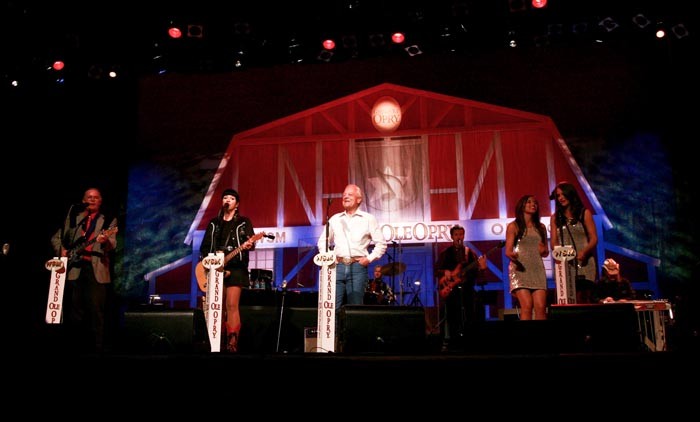 Bob Schieffer and Honky Tonk Confidential (extra bonus: dancing girls!)
at the GRAND OLE OPRY
It doesn't get any better for musicians than this past week. The Fabs played our second gig inside the Air and Space Museum (reuniting with the lovely and talented Lisa Mathews), and another great Light the Night walk sponsored by the Leukemia Society. HTC played at a lovely fall festival in Haymarket and met a terrific sound guy – Paul "Soundpig" Koch.

But the highlight was a dream come true: HTC and Bob Schieffer made their debut at the Grand Ole Opry Sunday night. The performance, including Julie Roberts, Darius Rucker, Josh Turner, Trisha Yearwood, (HTC/BS), and Brad Paisley was broadcast on WSM radio.

Stepping out on the stage at the Ryman Auditorium was an incredibly moving experience. The room holds about 2300 people, but it looks a lot smaller. From the big wooden stage with the red Opry barn backdrop, the wooden floor, filled with hard wooden church pews, slopes upward. Plain stained glass windows in the balcony allow light to filter into the Mother Church of Country music.

The dressing rooms are all different – the theme of ours was Johnny Cash – so the walls were covered with his pictures. We first set up shop in the Minnie Pearl dressing room, just off the stage, and then moved upstairs after our sound check.

The guards were terrific and we never had to show id or explain who we were. They treated us as if we played there every night. A back stage door opened into an alley, right across from the back sides of Tootsie's Orchid Lounge and Robert's Western World, where we spent some time later that night.

Of course we were nervous (read: petrified). But the crew was great, and made sure that we could hear everything. We had one minute (a commercial break) to go on stage, plug into the amps, and wait for our introduction. Mark Lindamood was behind a plexiglass wall and it seemed as if he was about 20 feet away from us. Bobby Martin was way way back near the drums, but we could hear him fine. Our mic stands were covered with the traditional Grand Ole Opry wooden constructs, complete with the WSM logo.

Of course, the acoustics were totally wonderful.

The other artists on the bill were warm and friendly, especially Brad Paisley, who made friends with us (especially Bob). He was nice, funny, and smart. And he played some great guitar solos. He told Bob that we were great and Bob told him that he should cover some of our tunes!!!

On a bill like ours, each artist performs for about 10 or 15 minutes, and Brad Paisley performed for about 30 minutes. The audience gave Bob rousing applause as he strode out on to the stage and threw his hat into the wings, and hooted and hollered after each song. We would have gotten an encore if the schedule hadn't been so tight!

After the show, we went into the alley, where some tourists had gathered to see the real country stars, and we saw our friend Thom Shepherd waiting for us. Now HE is a really good Nashville songwriter, with hits including Riding with Private Malone and Red Neck Yacht Club. He comes to our area every once in a while, and you should definitely check him out. His website is http://www.thomshepherd.com. We went into Tootsie's and watched Billy Block do his live radio show (he was kind enough to mention us and introduce us to the crowd, along with Thom). We later went into Robert's Western World and listened to some great country music—the Don Kelley Band, featuring a youngster named JD Simo on guitar (FANtastic) and a 23-year-old hot hot fast fiddler whose name I don't know.

Other Nashville highlights: We visited Katy K at her great western wear store www.katyk.com, then went to the great western couturier Manuel's shop (man oh man what beautiful threads, especially the 50 jackets designed for every state) http://nashville.about.com/library/blank/manuel/blmanuelindex.htm, tooled around lower Broadway, including a tribute to Don Helms at Robert's, ate barbeque at Jack's, had breakfast at the Loveless Café just out of town, and saw a spectacular performance by the Time Jumpers http://www.thetimejumpers.com at the Station Inn. The Time Jumpers inspired us to -- (someday- not any time soon) – create our own large western swing orchestra. I've always wanted to learn how to write out charts. Anyway, I'm rambling now…. Still on that Opry high, I guess.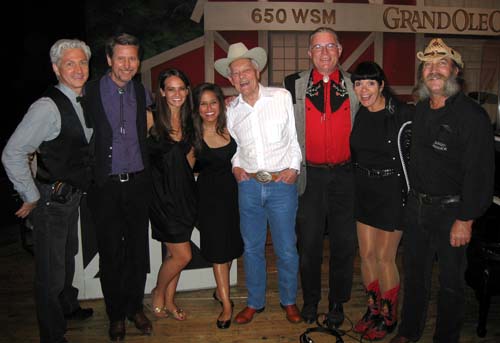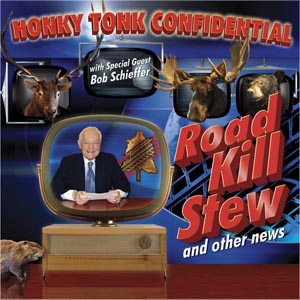 We've put up a new song for the folks in Fort Worth-Dallas on our AUDIO page
We have some great gigs coming up -- see our SHOWS page
In other news -- this year: HTC's Road Kill Stew and Other News won a Wammie for Country Album! also Album Art!
Diana won a Wammie for Rock Vocalist!
Bob Schieffer and HTC performed at the Wammies to a standup crowd!
Bill Schieffer and the band performed at a Paley Media Center gala honoring
Sumner Redstone on February 7 at the Waldorf-Astoria. The band performed
TV Anchorman and a new song, written especially for the occasion: "Mr. Redstone."
The New York Post's Page 6 said we upstaged Tony Bennett (although that's impossible, isn't it?)
And here's what the New York Times, Washington Post, and New York Post have said in the past few weeks:
New York Post: (Liz Smith): "BRAVO to the happiest moment at the Museum of Broad casting's honor for Sumner Redstone.
Nope, sorry it wasn't Mr. Redstone, but Bob Schieffer, on the verge of departing and leaving CBS much the poorer for it.
Onstage, Schieffer and a country band from DC, Honky Tonk Confidential, sang a knockout tribute.
So who knew the venerable newsman could sing?! (Only us other people from Fort Worth, Texas)"
The band was featured in a Bill Geist piece on CBS' Sunday Morning
this summer and the band/CD have been mentioned/featured in and on
The New York Times
CBS Early Show
NBC
CNN (a spectacularly funny Jeanne Moos piece)
Austin Chronicle
Ft. Worth Star- Telegram
Houston Chronicle
Washington Post
New Yorker
The Sunday Morning came after a hugely successful show at NYC's HOT new restaurant and live venue, Hill Country NYC, which brings authentic Texas barbeque to the Big Apple (we had some, it's fabuloso!) Hill Country NYC is at 30 W. 26th St, in Chelsea. Visit it next time you're in New Yawk. The star-studded audience included Andy Rooney, Tom Brokaw, Harry Smith, Susan Zirinski, and many other luminaries in the news business.
It was such a great gig that we've been invited back in December, along with Pulitzer-prize winner Laurence Wright and his Austin band Who-Do.
Some bands get endorsements from alcohol purveyors such as Schlitz and Jagermeister, and some get endorsements from really terrific, family-owned
business like Stuckey's. We're in negotiations with Stuckey's to sell our CD in all of their stores, and we're really excited about it! All we need now
is a Stuckey's bus, and a reality show called On the Road with Bob, which takes the band and Bob around the country to various gigs in our new bus!
Some of our outstanding gigs this past year (without the Stuckey's bus) have included:
Paley Center for Media gala honoring Sumner Redstone, Waldorf-Astoria grand ballroom
University of South Dakota, Vermillion, SD (sold out/full house with extra seats added on the lawn)
Hill Country NYC (twice)
21 Club, NYC (yes, THAT 21 Club)
The Watergate
and we're going to Houston, Texas in a few months..... as well as
a tour in the Caribbean!!! (woo hoo!)
Here's the news on our latest CD, which is getting all the buzz....
Road Kill Stew and Other News (with Special Guest Bob Schieffer)
To order, please visit our store and click on CDs
For more info on the CD, go to our Road Kill page
HTC collaborated with CBS News Chief Washington Correspondent and Face the Nation anchor
Bob Schieffer on four of the songs, including "TV Anchorman," which Bob sings.
Listen to HTC on Fred Imus' Trailer Park Bash on Sirius Radio, Outlaw Country Channel 63.
The show airs from 6am-8am Saturday morning and 10am-Noon on Sunday.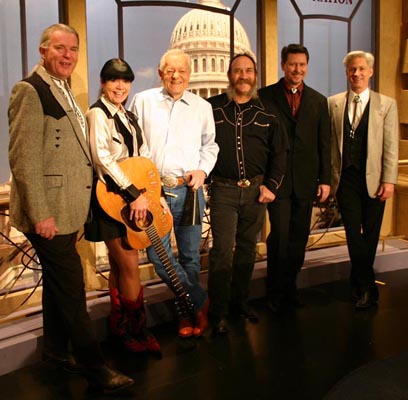 MORE NEWS: HTC won THREE WAMMIES -- see our News Page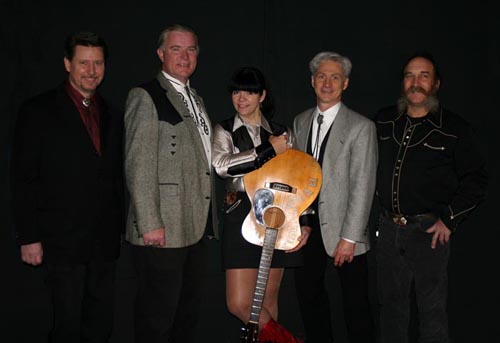 Sam Goodall, Mike Woods, Diana Quinn, Mark Lindamood, and Bobby Martin
And more....
An American Pastime in Black and White, our song about the Negro Leagues, was performed
all over the country in 2006 and 2007; it was included in aspecial orchestral program about baseball called
The Baseball Music Project.
Want to hear our song about Washington , D.C. 's baseball team?
click here: That's Nats!
You heard it played at RFK all the time!
or go to our audio page for a higher quality version
Honky Tonk Confidential plays both kinds of music -- country and western. Claiming classic honky tonk and western swing as major influences, HTC 's performances include classic country tunes as well as clever originals, filled with cunning references while sounding inspired and totally original.

A front-line of Telecasters is led by Mike Woods' masterful guitar and including Diana Quinn on rhythm guitar, Sam Goodall on bass, and Bobby Martin on his "flying" pedal steel guitar. Mark Lindamood fuels the band with his powerful Ludwig drums. In addition to impeccable musicianship, HTC 's three-part harmony sets the band apart from all others in its class.

HTC hails from Washington , D.C. (and we're here to help you). The band has played in a wide variety of venues, from the genuine honky tonk JV (in Falls Church ) to most of the major venues in the area, including the Kennedy Center , Barns of Wolf Trap, the Strathmore, and the Washington Folklife Festival. HTC is also Bob Schieffer's (of CBS News) official backup band, and four of Bob's songs (lyrics by Bob, music by Diana and Mike) are on the band's fourth album, Road Kill Stew and Other News (with special guest Bob Schieffer) You may have seen HTC on C-Span, backing up Bob on (I Wanna Be A) TV Anchorman; on South Dakota Public Television; on youtube, on Billy Hancock's American Music Cable TV show, or in the Style section of the Washington Post. And you can leven ook them up on Wikipedia.

In addition to Road Kill Stew and Other News, HTC has released three award-winning CDs (Honky Tonk Confidential, Your Trailer or Mine, and Who Gets the Fruitcake This Year? Some of the band's other 20 individual recordings include "That's Nats" and "The Negro Leagues: American Pastime in Black and White;" "That's Nats" was released as a single as well as included on Hungry for Music's latest baseball compilation, along with "An American Pasttime." The band also plans to release its Live at the Strathmore series Roy Clark Tribute.

See our NEWS page for news on our latest WAMMIEs: we won Country Album, Song of the Year, and Record Design.

Previous Awards:

2006 WAMMIE: Diana won best album design for the single That's Nats. 2005 WAMMIES: HTC won 3 WAMMIES for Country duo/group
Roots rock duo/group
Country Recording (for Bases on Balls, on Hungry For Music's Seventh Inning Stretch Baseball CD) Our own Mike Woods also won a Wammie for Rock Instrumentalist. 2004 WAMMIES: Country duo/group 2003 WAMMIES: Country duo/group, Album of the Year, Record Design for Your Trailer or Mine? 2000 WAMMIES: Debut album for Honky Tonk Confidential




FOR BOOKINGS AND MORE INFORMATION, email diana at muddypaws.com or call 202-544-7011




THIS SITE BROUGHT TO YOU BY TOO MANY DOGS MUSIC
We offer CDs and t-shirts on this site Customer credit cards will be billed as Too Many Dogs Music 1203 East Capitol St. , S.E.Washington , D.C. 20003-1440