Road Kill Stew and Other News (featuring Bob Schieffer) is the result of a collaboration between Honky Tonk Confidential and CBS News Chief Washington Correspondent Bob Schieffer. Bob wrote the lyrics to four of the songs on HTC's fourth album, and he also sings his hilarious "TV Anchorman," about a guy pumping gas for a Stuckey's who is recruited to read the news. Bob also wrote the lyrics to "Hard Choices," the first cut on the album; Little Lulu and Sister Hot Stuff; and Long Shot Love. Visit our AUDIO page to listen to some clips.
Bob performed with the band at its CD release show at IOTA in April. Check the SHOWS page for future appearances with us, including the National Press Club's 100th Anniversary gala fundraiser, called Road Kill Stomp, on Monday, May 14. Bob will also perform with HTC at the Washington Folk Festival, Sunday, June 3, around . And we will join him at a very special bladder cancer benefit on Sunday, June 24. We have other surprises planned, but do not wish to Jinx them. Please watch our calendar carefully, though.

RECENT PRESS
The CD is available on this website, on Amazon.com, CDbaby.com, and will be on itunes, Borders books, and select Stuckey's stores next month.
Please request Road Kill Stew & Other News (with special guest Bob Schieffer) at your local record store. and on XM and Sirius radio.
"You've got to hear Honky Tonk Confidential! They can tug your heart like Hank Sr. and rock like Hank Jr., and
sometimes they're funnier than the Capitol Steps with a twang! Put some sawdust on the floor, some chicken wire
around the stage, and this CD in the player as you suck on a longneck Bud." -- Jim Bohannon, Westwood One
THIS JUST IN: Listen to HTC on Fred Imus' Trailer Park Bash on Syrius Radio, Outlaw Country Channel 63.
He's going to play cuts close to the end of hour 2, around Eastern on Saturday and close to on Sunday.
OTHER NEWS : 3/29 Mike, Diana and Bob were on The Jim Bohannon Show , which airs on 300 stations nationwide every evening. Bob was a tad late (he's a new member of the exclusive Gridiron Club and had to attend a dress rehearsal), so Jim skillfully interviewed Mike and Diana, and they played a few tunes. Bob was a terrific interview, as always, talking about how he writes songs and how he wrote the four songs on Road Kill Stew.
3/30 -- Bob mentioned HTC and the new CD twice on the Imus in the Morning show, and Imus demanded that Bob fedex the CD to him at his NYC apartment. The next week, Imus showed ther CD cover full screen, read the song titles, and said he'd be playing cuts later in the week. The next, day, he made one of the biggest blunders of his life.
Bob likes to call HTC his "officlal backup band" -- you may have seen us backing up Bob on TV Anchorman on C-Span. Mike and Diana also flew to Vermillion, SD in October, 2006 to perform three of Bob's songs at the Gary Neuharth Awards Ceremony, at which Bob received the award.
You can see our performance here with the help of some wonderful local musicians, including Jonelle Mosser, who flew in from Nashville to sing one of Bob's songs, "From There to Here." Local journalist Dave Miller, of the Miller Report wrote, "One of the other highlights of the night was the singing of Mr. Schieffer. He has written some songs and he perfomed for the audience, what will be a smash hit, 'TV Anchorman'. It is absolutely hilarious...." We were big stars the next morning at the airport, where it seems everyone had watched the live broadcast on South Dakota Public TV the night before.
Diana and Mike wrote most of the rest of the songs on the CD. Lisa Ann Wright, the band's good friend and former Fabulette, originated and collaborated with Diana on " A Girl Named Dick." Lisa just released her own debut CD of original tunes, called Sweet Bye&Bye. Please visit her site at lisawrightsongs.com and buy her CD - it's terrific!
Here is the list of songs on the CD. You can buy the album on our Store page. We also have some short clips of four of the songs -- just click and play the mp3 files.
3. Road Kill Stew
4. Little Lulu and Sister hot Stuff
5. The Ghost in My Guitar
7. Lorraine, Lorraine
8. Statue of a Fool
9. Black Roses
10. I Wish You Were From Texas
11. Guitar boogie
12. Long Shot Love
addENDum: WHTC Radio -- Momma's Cow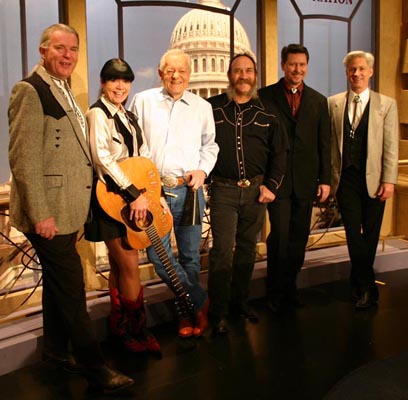 FOR BOOKINGS AND MORE INFORMATION, email diana at muddypaws.com or call 202-544-7011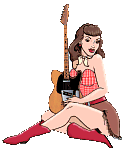 THIS SITE BROUGHT TO YOU BY TOO MANY DOGS MUSIC
We offer CDs and t-shirts on this site Customer credit cards will be billed as Too Many Dogs Music 1203 East Capitol St., S.E.Washington, D.C. 20003-1440